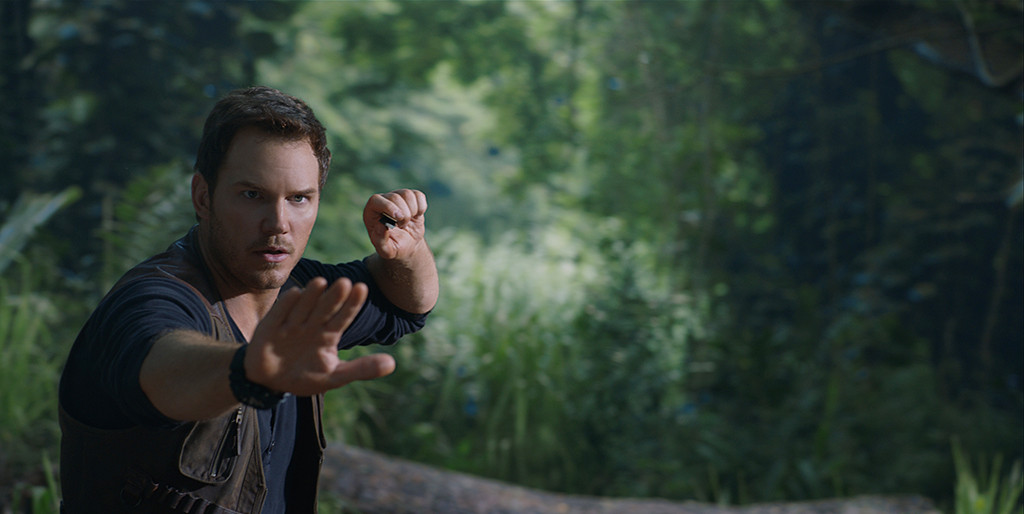 Universal Studios/Amblin Entertainment, Inc./Legendary Pictures Productions, LLC.
Chris Pratt is everywhere these days and we're not complaining.
The 39-year-old actor has played everything from a dinosaur whisperer—OK, that's not his technical title in Jurassic World, but it fits—to Johnny Karate AKA Andy Dwyer's TV persona on Parks and Recreation and every role is more impressive than the last…at least in our minds.
Throughout his career, the Minnesota native has done both television and film and managed to catch our attention and leave us wanting more from him no matter who he's portraying. 
Some fans fell in love with him on Everwood back in the early '00s, while comedy fans will never forget him on Parks and Rec, which ended in 2015.
Movie buffs on the other hand have gone to theaters to see him as a hero figure in Guardians of the Galaxy and watched him fight off bad dinosaurs in the Jurassic World franchise twice now.
If we have it our way the actor will always be in the spotlight and winning awards for all of his efforts along the way.
Pratt is a lovable goofball at times and a heroic symbol at others and his ability to change in front of the camera is one of many reasons why he is a 2018 E! People's Choice Awards finalist.
This year, he will be competing for Action Movie Star of 2018 for his role in Jurassic World: Fallen Kingdom and we can't think of another actor more worthy of this award…except for maybe the other four stars in this category like Chadwick Boseman for Black Panther.
No matter who you are rooting for, it's time to cast your vote before the final round of PCAs voting comes to a close on Friday, Oct. 19, so get to it.
As a reward for voting, you get to look at all of Pratt's memorable roles in our gallery below. We know, we're givers!
Warner Bros.
Everwood

Chris Pratt played Bright Abbott, Amy Abbott's (Emily VanCamp) big brother and the lovable, yet not-so-bright, teen in the town of Everwood, Colorado throughout The WB series.
Fox
The O.C.

Holy throwback! Pratt appeared on a few episodes of The O.C. as earth-loving hippie "Che" and even stripped down to serenade Adam Brody with a song about polar bears. 
20th Century Fox
Bride Wars

Pratt stars alongside Kate Hudson and Anne Hathaway in this romantic comedy placing two bride-to-be's in an epic battle of wedding sabotage. 
20th Century Fox
Jennifer's Body

Pratt pops up for a hot second in this 2009 horror spectacle that places a demon-possessed Megan Fox at the center of multiple murders. 
NBC
Parks & Recreation

Throughout its seven seasons, Pratt brought comedic relief to Pawnee City Hall as the goofy yet lovable Andy Dwyer.
Columbia
Moneyball

Pratt hit a home run in this baseball-inspired flick starring Brad Pritt and Jonah Hill. 
Relativity Media
Take Me Home Tonight

Love at first sight! Pratt met his now ex-wife, Anna Faris, on the set of this 2011 comedy. 
20th Century Fox
What's Your Number?

In this rom-com about rekindling the fire with past exes, Pratt plays "Disgusting Donald," and yikes!
Universal Pictures
The Five-Year Engagement

After Pratt's character gets his best friend's fiancé's sister pregnant (confusing, right?), co-stars Jason Segel and Emily Blunt are forced to postpone their wedding until the timing is just right. 
Jonathan Olley
Zero Dark Thirty

Pratt bulked up big time to play a member of SEAL Team 6 in 2012's Best Picture winner at the Academy Awards. 
2011 Movie Productions, LLC
Movie 43

Pratt and Faris came together again on the big screen in this raunchy collection of skits, which earned the Worst Picture award at the Razzies in 2014. Yikes! 
Warner Bros. Picture
Her

While his character doesn't fall in love with a Siri-inspired operating system like co-star Joaquin Phoenix, we sure love Pratt as his supportive co-worker in this futuristic drama.
DreamWorks
Delivery Man

The actor packed on more than 60 pounds to play Vince Vaughn's sidekick in this hilarious comedy. 
Courtesy of Warner Bros. Pictures
The Lego Movie

Pratt dives head first into animation with his role as Emmet Brickowski, a construction worker who suddenly finds himself tasked with saving the world from an evil villain. 
Marvel
Guardians of the Galaxy

In this summer 2014 box office hit, Pratt battles through space with a rag-tag team of superheroes. 
Universal Pictures
Jurassic World

Pratt takes on velociraptors in the 2015 installment of the Jurassic Park franchise.
Metro-Goldwyn-Mayer Pictures Inc. and Columbia Pictures Industries
The Magnificent Seven

In this 2016 movie, Pratt plays Josh Faraday and acts alongside Denzel Washington, Ethan Hawke and more stars.
Courtesy Sony
Passengers

Pratt stars with Jennifer Lawrence in this adventure movie Passengers. 
Marvel Studios
Guardians of the Galaxy Vol.2

In this sequel, Pratt's character Star-Lord works with his team to protect the galaxy (again). He also learns more about his parentage.
Marvel Studios
Avengers: Infinity War

In this movie, Pratt's character Peter Quill, also known as Star-Lord, teams up with other Marvel heroes to defeat Thanos.
Universal Pictures and Amblin Entertainment, Inc. and Legendary Pictures Productions, LLC.
Jurassic World: Fallen Kingdom

The Minnesota native reprises his role as dinosaur trainer Owen Grady in this 2018 follow-up to Jurassic World.
Watch E!'s People's Choice Awards Sunday, Nov. 11, 2018 at 9 p.m., only on E!